HSK CUTTING SYSTEMS
//
Cutting length: 150 – 4500 mm / Sheet metal thickness: 0,05 – 18 mm
Single strokes: -120 1/min. / Continuous strokes: -250 1/min.
Our high quality HSK-shears are often integrated with upstream or downstream machines into a fully automated production line. The machines are custom-designed and all the wishes of the customer are respected in the manufacturing of the shear.
The motor drive of the guillotine shear is also designed according to customer requirements and therefor realized using an AC gear brake motor, a servo gear motor or a flywheel with a pneumatically or hydraulically actuated clutch-brake combination.
The machines are primarily used in cut-to-length and press lines for preparing the beginning of the metal strip, for cross-cutting and for processing the end of the strip. Often, metal sheets are fed automatically to be trimmed or divided for further processes.
The HSK-shears are not only used in lines to process sheet metal but also in production lines for cutting plastics, CFRP/GFRP, fleece material and foam.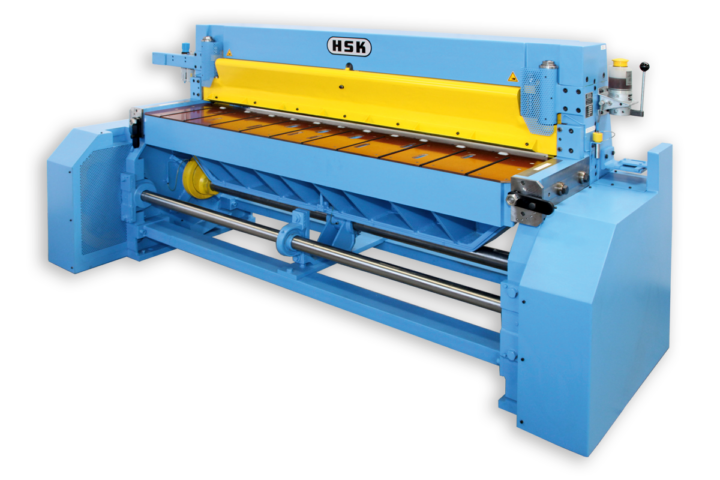 CUT-TO-LENGHT SHEAR
WITH CLUTCH DRIVE
HSK/S/SF 2030 x 6 mm
Cut gap adjustment by levers and locking bolts
Flexible casters in the table
Table covered with plastics and brushes
| | |
| --- | --- |
| Cycle time: approx. 1,2 s | Opening: 20 mm |
| Cutting angle: 1,6° | Power: 11 kW |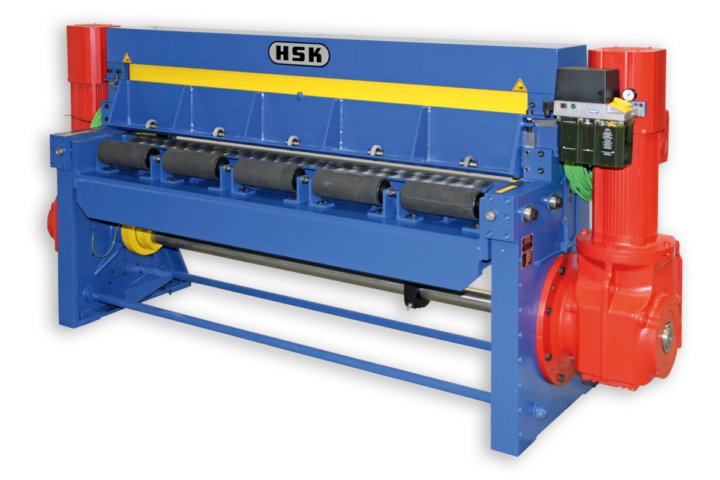 CUT-TO-LENGHT SHEAR
WITH TANDEM SERVO DRIVE
HSK/S 1630 x 4,5 mm
Ridig guiding wedge insted of hold down
Special table with space for rubberized rollers
Automatic central oil lubrication
| | |
| --- | --- |
| Cycle time: approx. 0,6 s | Opening: 20 mm |
| Cutting angle: 1,58° | Power: 2 x 30 kW |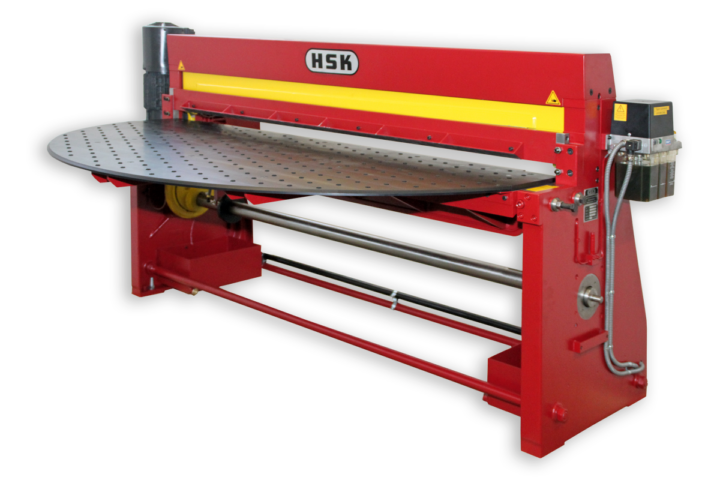 CUT-TO-LENGHT SHEAR
WITH GEAR MOTOR DRIVE
HSK/G 1680 x 0,5 mm
Optimised for continous operation by converter
Broadened for pivoting operation
Special table with plastic plates ands brushes
Without hold down
| | |
| --- | --- |
| Cycle time: approx. 0,75 s | Opening: 69 mm |
| Cutting angle: 0,6° | Power: 2,2 kW |
CROP SHEARS
A clean cut at the beginning or end of the strip.
HSK-crop shears are mainly used in the lead-in area of metal strip systems to remove the damaged initial parts of a coil. For that purpose, the crop shear is integrated directly after the decoiler in the production line. Due to their applications, crop shears are also called scrap shears or scrap cutters.
CUT-TO-LENGTH SHEARS
Precise cuttings on the production line.
HSK-cut-to length shears are integrated into cutting lines in order to cut the already flattened strip transversely to the conveyor running direction thus producing flat sheet metal of a specifically defined length. Most often, the HSK-cut-to-length-shears are screwed on a rigid machine base frame and the metal strip is transferred to the shear via a feeding unit.
SCRAP WEB SHEARS
Avoid costly scrap metal disposal.
In the process of manufacturing stamping and forming parts with corresponding presses, the disposal of the resulting scrap web can be a challenge. If coiling of the material is not possible, a scrap web shear has to cut the scrap web behind the press to avoid enormous disposal costs.
TRIMMING- & SLITTING SHEARS
Automatic flat sheet metal processing.
Guillotine shears are also used in fully automated production lines, that means shears which are not fed by a coil but by metal sheets for further processing. It can be necessary that the sheet metal has to be trimmed in the production company to achieve the required measurements and quality of the cut.
THE PERFECT CUT
FOR A WIDE RANGE OF MATERIALS
HSK EQUIPMENT
//
We offer you an extensive range of standard and special equipment for all HSK cutting systems.
We would also be happy to support you with individual requirements..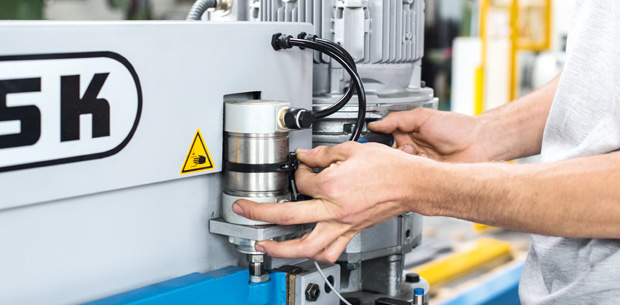 STANDARD EQUIPMENT
Side frames manufactured using vibration-damping cast iron

 

Cutter bar guided in robust sliding guides
Shear table with continous flat supporting surface

 

Spring-actuated hold down manufactured in one piece, with glued-in rubber cord at the bottom side and guiding plate, mechanically linked with movement of the cutter bar, mounted close to the cutting area
Steel blades produced in one piece, with four cutting edges and wedge angle 90°, using special blade steel
Manual cut gap adjustment by fine threaded spindles at the front of the left and right side frame, clamped by hexagon screws at the side frames, for adjustment after changing or turning the shear blades
Machined reference edges at the front of the side frames for aligning the shear parallel to its blades
Milled horizontal surfaces at the side frames for precise levelling of the machine

 

Slotted holes at the bottom side of the side frames

 

Manually actuated oil central lubrication, realised with piston
distributors
Oil collect pans with drain plugs mounted under the main bearings and the eccentrics
Machine can be stopped by cam disc on the main shaft and mechanical limit switch
Electrical wiring up to terminal box
Operating side corresponding to customer requirements
Side of motor and terminal box corresponding to customer requirements
Documentation in German or English as hardcopy and on CD
Declaration for the assembly of an incomplete machine
Risk assessment according to DIN EN ISO 14121-1
SPECIAL EQUIPMENT
Special blades for cutting stainless steel, sheet metal for transformers, plastics, rubber, etc.
Manual cut gap adjustment by fine threaded spindles and two levers with locking bolts at the front of the left and right side frame, clamped at the side frames, for manual adjustment depending on the sheet metal thickness
Automatic cut gap adjustment by fine threaded spindles and stepper motors, clamped at the side frames, for motor-driven adjustment depending on the sheet metal thickness
Automatic oil central lubrication with pressure and liquid level switch
Welded side frames if a special construction is needed
Welded base frame for adaption of the passline
Special table with space inside to integrate e.g. a conveyor belt
Shear table covered with plastic plates and optionally with integrated brushes, designed for sheet metal with easily scratched surface
Main shaft mounted in a position so that sheet metal can fall down passing the main shaft tangentially
Pneumatically actuated hold down for adjustment of the contact pressure and the moment of lowering and lifting
Rigid guiding plate instead of hold down
Mounting feet or precision wedge shoes for comfortable and vibration-damping installation

 
Additional customisation on demand.